LAB, X-RAY AND PRIMARY CARE
ALL UNDER ONE ROOF
Convenience is everything these days. That is why Scheurer Primary Care - Bad Axe is ready for you and all of your Primary Care and family medicine needs. Located all in the same building, you can receive care for Primary Care and Pediatrics, as well as take care of any lab work or even complete an X-ray.
All provider orders are accepted, so it does not matter where you might see your physician or advanced practitioner, you can have your lab or X-ray taken care of at Scheurer Primary Care - Bad Axe.
Lab Hours:
Monday: 7:00am - 3:00pm
Tuesday: 7:00am - 3:00pm
Wednesday: 7:00am - 3:00pm
Thursday: 7:00am - 3:00pm
Friday: 7:00am - 3:00pm

X-ray Hours:
Monday: 7:30am - 11:30am
Tuesday: 7:30am - 11:30am
Wednesday: 7:30am - 11:30am
Thursday: 7:30am - 11:30am
Friday: 7:30am - 11:30am
--------------------------------------------------
TAKE A VIRTUAL TOUR!
Click the play button below and then click anywhere in the space to virtually take a look around
--------------------------------------------------
MEET OUR BAD AXE PROVIDERS
Dan Drake, MD
// Primary Care
Find Dan Drake's Provider Information Here
Emily Puzan, FNP-BC
// Primary Care
Find Emily Puzan, FNP-BC's Provider Information Here
Lois Booms, FNP-BC
// Pediatric-Focused Nurse Practitioner
Find Lois Booms, FNP-BC's Provider Information Here
--------------------------------------------------
MAY 20, 2020
OPEN FOR BUSINESS!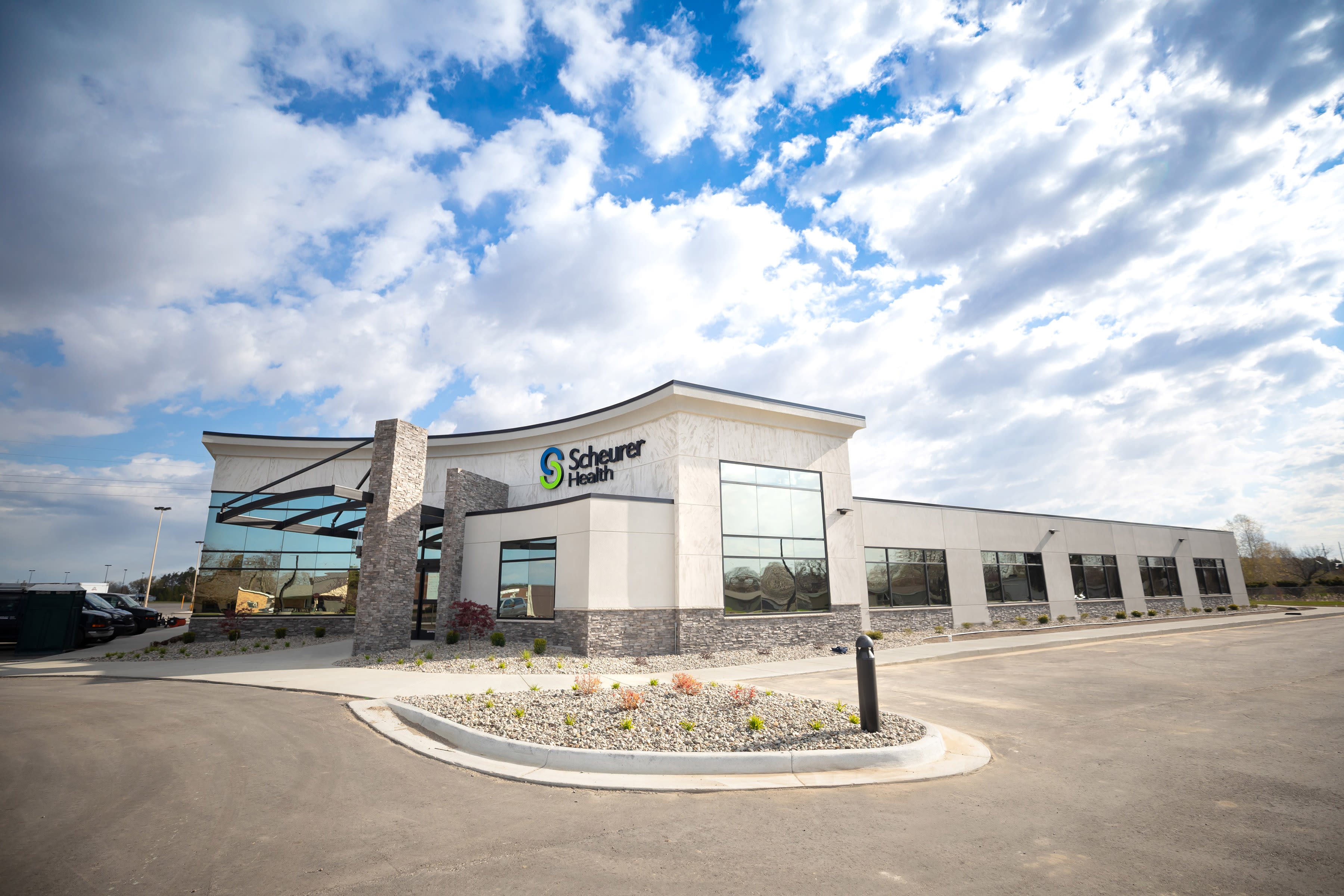 11 months after breaking ground, the new Bad Axe facility is ready for patients. In the final few days, all projects were completed and buttoned up in time for our first patient, the morning of Wednesday, May 20, 2020. Adding the fifth community to the Scheurer Health footprint, Scheurer Primary Care - Bad Axe offers more than just Primary Care. The entire facility was built around the customer experience with our Integrative Health Model, combining Primary Care with lab work, diagnostic imaging, care coordination, behavioral health, diabetes education, instructional courses, family medicine, and much more. Complete with 10 exam rooms and a procedure room, Scheurer Primary Care - Bad Axe has the capacity of four providers with room to spare.
Now residents of the Thumb can make one trip to see their primary care provider, get the necessary lab work done and even an X-ray, all under one roof.
SCHEURER PRIMARY CARE - BAD AXE
Primary Care
Laboratory Services // bloodwork, DOT physicals, etc
Diagnostic Imaging // X-Ray
Behavorial Health
Care Coordination
Diabetes Education
Conference/Course Space
Make your appointment today, by calling:
989.623.9300

Scheurer Primary Care - Bad Axe
75 Buschlen Rd
Bad Axe, MI 48413
--------------------------------------------------
APRIL 2020
EXTERIOR AND FINAL FINISHES
A mild winter enabled our project to remain on track and work moved forward with exterior finishes, roughing in and completion of plumbing, electrical, HVAC and other essential systems.
--------------------------------------------------
JANUARY 2020
MOVING TO THE INSIDE
With the studs and walls in place, the windows, insulation, plumbing and much more start to get put into its final spot across the entire 15,000 square foot building.
--------------------------------------------------
OCTOBER 2019
WALLS, ROOFING & A WHOLE LOT OF CONCRETE
As the steel structure is finalized and thanks to a mild fall (with the exception of one random, large snow storm), progress in Bad Axe continues to surge forward. Follow along as we shift our attention to walls, roofing and a whole lot of concrete!
--------------------------------------------------
SE​PTEMBER 18, 2019
STEEL, CONCRETE (FLOORS) & UTILITIES
With foundations and site-work complete, our attention shifts to the steel structure, getting utilities into the ground and pouring more concrete (floors, this time). Before we know it, walls will start to fill in the spaces between the I-beams and be one step closer to our final product.
--------------------------------------------------
AUGUST 15, 2019
CONCRETE AND DRAINAGE
We continue to make progress at Bad Axe location! For the past few weeks, crews have been busy pouring concrete for the basement, excavating drainage ways and prepping the site for curb installation. Steel will be arriving at the site in the next few weeks so our 15,000 foot structure will start to take shape in front of our very eyes.
--------------------------------------------------
JULY 25, 2019
BASEMENT & FOUNDATION
All of the site prep work has been completed, including underwater drainage and now we direct our attention to concrete footings, foundations and a basement. The structure, roughly 15,000 square feet upon completion will house up to four providers, laboratory services, x-ray & diagnostic services, a 30+ person training & conference room and much more. Check out the video below to see the latest action on the worksite, located just behind Walgreens on Buschlen Road in Bad Axe.

See our latest progress by clicking above!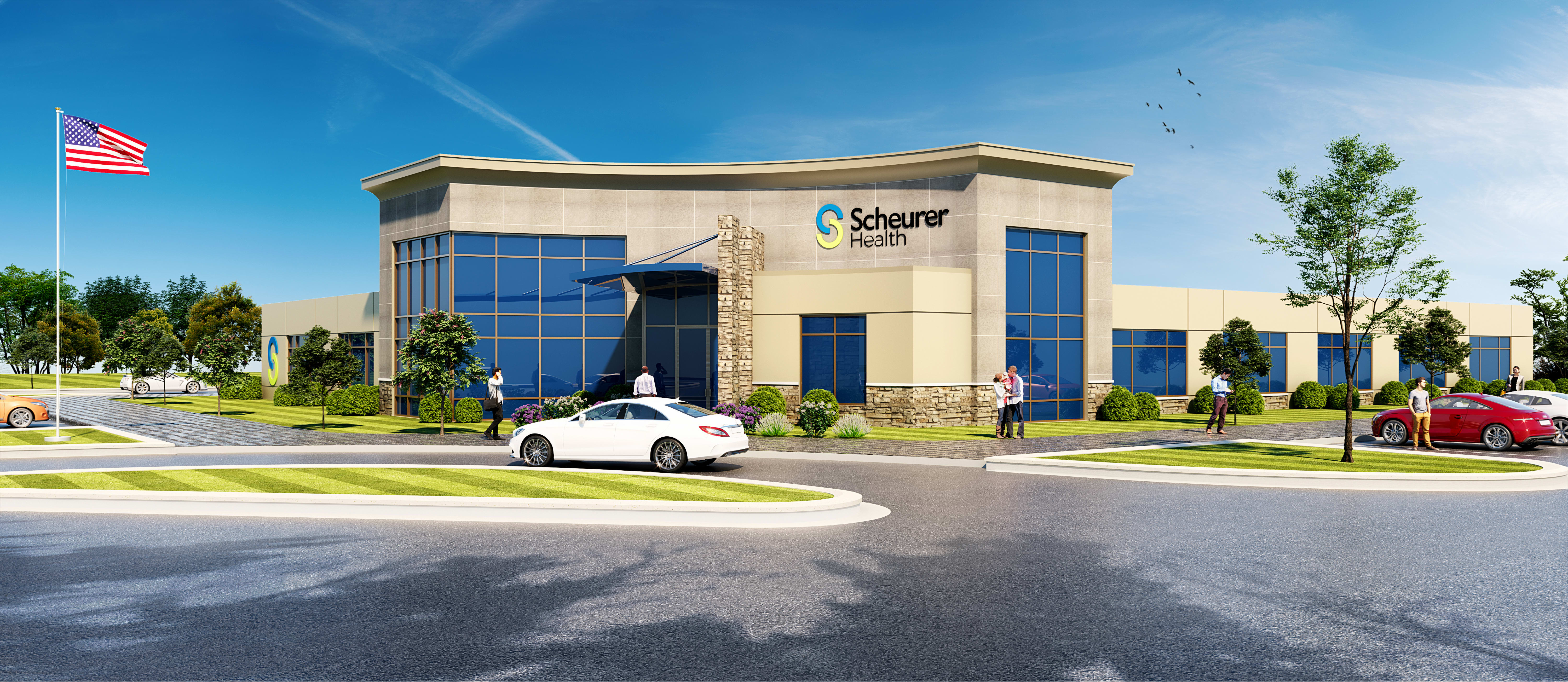 ----------------------------------------------------
JUNE 12, 2019
OFFICIAL GROUNDBREAKING

After completing more than 14 months of planning, the latest Scheurer addition has officially broken ground in Bad Axe. On June 12th, dignitaries from the City of Bad Axe joined members of the Scheurer Hospital Board of Trustees, administration and contractors for the project for the official groundbreaking. Terrance E. Lerash, President & CEO of Scheurer Hospital, said at the event, "This day has been a long time in the making. At Scheurer, we demand excellence from ourselves; and with that, we do things the right way. This facility is a perfect example of providing our community with the best possible care in the best possible way."

The property, located on Buschlen Road adjacent to Walgreens and Ashley Home Store, was purchased in May of 2018 after an extensive search for the most suitable property. The 250,000 square foot lot can be accessed from North Van Dyke Road as well as Buschlen Road. As many Bad Axe-goers have been experiencing this spring, Buschlen Road provides an alternative route from the east side of the city. "For years, we have had our patients and customers ask us to be located closer to their home. We are fortunate to have such a dedicated customer base that stretches across our entire county. When we began this project, we asked ourselves the question, 'where can we best serve our customers?' and this location checked off every box," added Lerash.

Collins and Associates is the general contractor for the construction project and was designed by Case Architecture, which will exceed 15,000 square feet when complete. The facility will provide enough space to house four primary care providers with the necessary resources and workspaces needed. Additionally, a laboratory is planned so that patients do not need to traverse the entire county for bloodwork or other tests, along with x-ray capabilities on-site. A 30-plus person conference room is in the works so educational classes such as health, wellness, cooking and lifestyle can also be taught.

Teresa Gascho, Vice President of Corporate Services at Scheurer, is extremely pleased with the progress that has been made thus far. "What excites me is the opportunity for Scheurer to serve another Thumb community. This facility will allow us to have many services under one roof with a focus on customer experience," noted Gascho. The new facility will feature some of the latest technologies and innovations in healthcare, making for a more efficient and valued experience.

Lerash added that the community of Bad Axe has been very welcoming so far, "Having grown up just north of here on North Van Dyke, I remember when this part of town was still farm fields. To be part of the growth of our community and adding services in Bad Axe is definitely a rewarding experience. I want to thank everyone that has personally reached out to us and welcomed Scheurer to town."
Construction is aimed to be completed by early 2020, in the first quarter of the year.
----------------------------------------------------
BUILT FOR THE THUMB, BY THE THUMB
Scheurer's responsibility is to maintain our community's health and wellness. With that, our vision of "Better Health. Better Life." enables us to provide the Thumb with the best possible care, in the most convenient setting. That is why, after years of requests and stacks of suggestions, we are excited to announce the addition of a primary care facility in the center of Huron County: Bad Axe, Michigan.
Since our founding in 1945, Scheurer's campus has almost continuously expanded to what it is today. With 16 total locations scattered across the western Thumb, plans are now in the works for our 17th location near the intersection of Buschlen and North Van Dyke Roads in Bad Axe. This family medicine facility will mark our fifth location for our renown-primary care services and join the ranks of our Sebewaing, Pigeon, Caseville and Elkton locations.
The Bad Axe facility property was chosen after great and detailed research of the area. We want to make our facility as accessible as we can, to add to the customer experience as much as possible. Being located on Buschlen Road allows traffic flow from all directions:
North/South: N. Van Dyke Rd (M-53) with a traffic light to turn (at Walgreens)
Southeast: E. Huron Ave to Whitelam St to Buschlen Rd
Northeast: Learman Rd (Truck Bypass) to Huron Crest Rd (behind Ashley Furniture) to Buschlen Rd
Being located directly behind Walgreens with other options close by, as well, customers will have the availability to make their prescription pick-up as convenient as they choose. See the map below for your preferred route to our newest facility.
As updates and plans are announced and finalized for our Bad Axe facility, this will be your home for the latest news. Check back frequently and thank you for being Scheurer!
Our motto of this project is "Built for the Thumb, by the Thumb" for a reason. As much of the facility will be built and constructed by local contractors. If you are interested in helping build this facility, contact Perry Collins, general contractor | bids@collinscorp.net or Bob Case, architectural design | bcase@casearchitecture.com or 989.695.9707.