YOUR COVID-19 INFORMATION HUB
It is our goal at Scheurer Health to provide you with the most up-to-date information in the most efficient way. Below you will find a variety of topics as they relate to our community's quest against COVID-19.
TESTING LOCATIONS
COVID-19 Testing is available by appointment only at the Testing Center.
Please call 989.453.1918 to make your appointment for a rapid test. If you are in need of a PCR test, a provider order is still required.
The Testing Center is located at 168 N. Caseville Road on the main campus in Pigeon to the south of the Barth Medical Arts entrance. You will see a large mobile unit to the right (south) of the overhang. Upon your arrival, please pull in between the two rows of cones, facing toward the white fence (south). 
SCHEURER TESTING CENTER
Please call 989.453.1918 to make your appointment for a Rapid Test
If you need a PCR test, a provider order is required
Monday: 8:30am - 11:30am // 1:00pm - 4:00pm
Tuesday: 8:30am - 11:30am // 1:00pm - 4:00pm
Wednesday: 8:30am - 11:30am // 1:00pm - 4:00pm
Thursday: 8:30am - 11:30am // 1:00pm - 4:00pm
Friday: 8:30am - 11:30am // 1:00pm - 4:00pm
Saturday: Closed
Sunday: Closed
VISITOR RESTRICTIONS
INPATIENT/EMERGENCY VISITORS
Due to the increased community transmission of COVID-19, we are restricting our visiting policy to one designated visitor per patient for the duration of their stay. Pediatric patients are allowed two visitors for the duration of their stay. During the admission process, our team will work through the details with you to make sure all necessary steps are completed. 
Please note: this does not affect Long Term Care or Country Gardens residents and visitors. 
We apologize for any inconvenience this may cause and appreciate your dedication to keeping our community healthy.
THE DINING ROOM IS CLOSED
Based on the current community transmission levels of our region and area, the Dining Room is closed to all visitors. 
VACCINATION CLINICS
The Huron County Health Department has vaccination clinics available.
Visit the Huron County Health Department's website by clicking here.
To help those individuals who might not have access to the internet, please pass along that they can call 888.535.6136 and press option "5" for help finding information about vaccination in your area and to schedule an appointment, if available.
VACCINE FREQUENTLY ASKED QUESTIONS (FAQ)
Getting vaccinated yourself may also protect people around you, particularly people at increased risk for severe illness from COVID-19. COVID-19 can have serious, life-threatening complications, and there is no way to know how COVID-19 will affect you.
We understand that some people may be concerned about getting vaccinated. Safety is the first priority. The process used to approve the COVID-19 vaccines is the same proven process that was used to create safe and effective vaccines for the flu, polio, measles, whooping cough and more. While the COVID-19 vaccines are being developed as quickly as possible, routine processes and procedures remain in place to ensure the safety of any vaccine authorized or approved for use.
Here is an infographic to help explain things. You can download it by clicking here.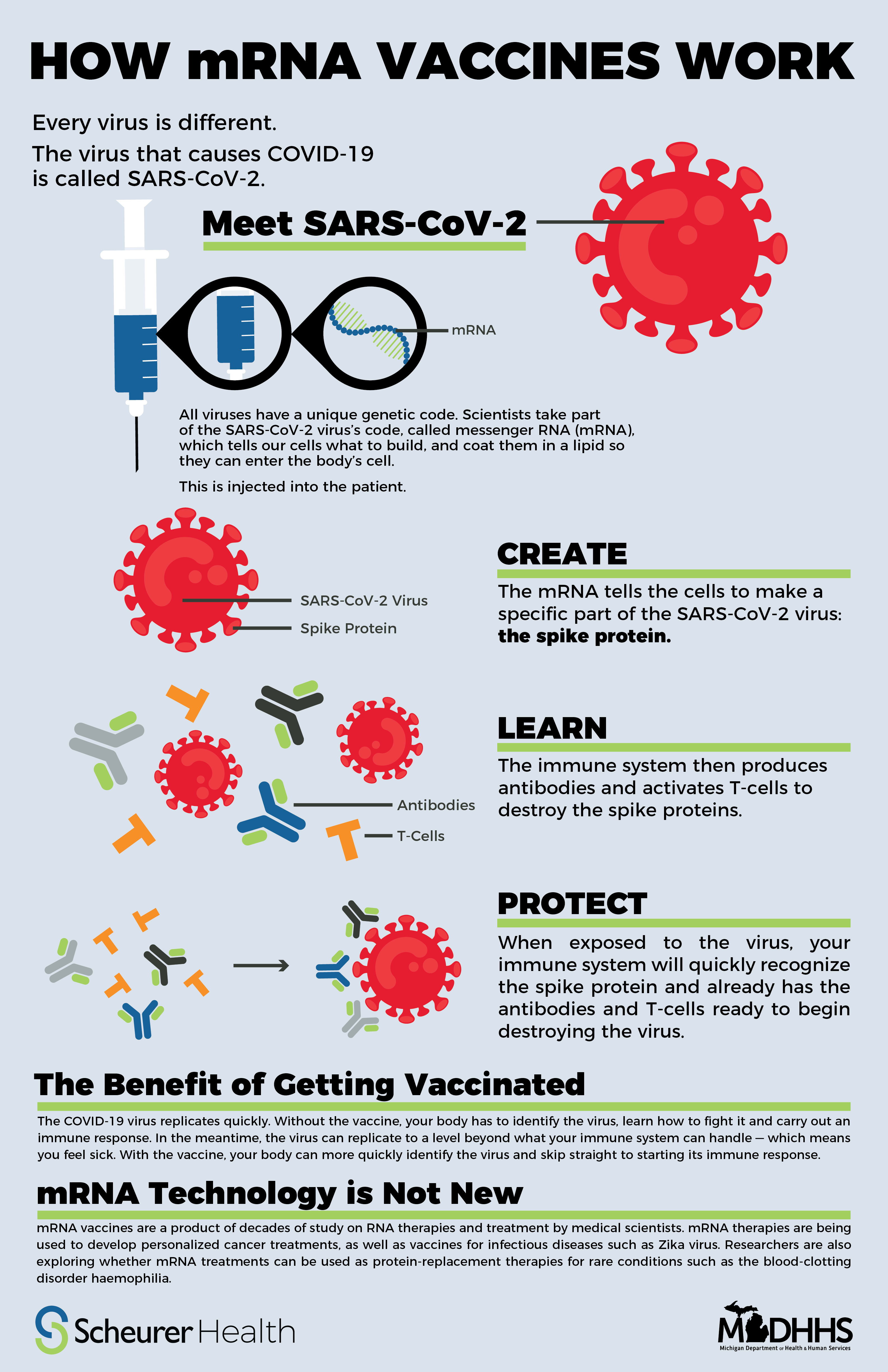 Yes. The current vaccines need two shots to be effective. It is very important that you receive the vaccine from the same manufacturer both times and get the doses within the required time frame to ensure the best protection from COVID-19. If you receive the Pfizer vaccine the second dose needs to be 21 days after the first dose, and the second dose of the Moderna vaccine needs to be 28 days after the first.
Yes. People who have had COVID-19 can still get a vaccine. CDC recommends getting it after you have recovered. You should check with your Primary Care Provider if you have questions.
Yes, you should still get the COVID-19 vaccine, even if you have had COVID-19. There is not enough information currently available to say if or for how long after infection someone is protected from getting COVID-19 again; this is called natural immunity. Early evidence suggests natural immunity from COVID-19 may not last very long, but more studies are needed to better understand this.
Yes. Michiganders should continue to wear masks, social distance from those not in their household and wash their hands, even after receiving the vaccine.
Vaccine development typically takes many years. However, scientists had already begun research for coronavirus vaccines during previous outbreaks caused by related coronaviruses (Severe Acute Respiratory Syndrome and Middle East Respiratory Syndrome). That earlier research provided a head start for rapid development of vaccines to protect against infection with COVID-19. No steps were skipped in the development of this vaccine but modifications to the process were made to shorten the timeline without sacrificing safety, such as:
Overlapping phase I and phase II clinical trials. Phase I studies include a small number of people and evaluate whether the vaccine causes an immune response and is safe. Scientists looked at data from a group of people in phase I as phase II was progressing to make these evaluations.
While completing large phase III trials, manufacturers began producing the vaccine, so that if it were shown to be safe and effective, they would have large numbers of doses ready.
While waiting for a vaccine to be ready, many other aspects of vaccine delivery were prepared (e.g., developing plans for how to distribute the first, limited quantities available, ensuring adequate supplies for distributing and administering the vaccine.)
No. This vaccine gives your body a code that helps it recognize the virus, so your body can fight it off in the future. The COVID-19 vaccine differs from other vaccines in this way, such as the flu shot.
After the COVID-19 vaccination, you may have some mild side effects. This is a normal sign that your body is building protection. The side effects from the COVID-19 vaccination may feel like flu and fight even affect your ability to do daily activities, but they should go away in a few days. Your arm may be sore, red, or warm to the touch. You may experience a low-grade fever, headache, and just a general feeling of "not yourself". These are signs that your immune system is doing exactly what it is supposed to, which is to produce an immune response for you to have protection against this disease.

TELE-HEALTH NOW AVAILABLE
To help alleviate the need to leave the house during the state-wide Stay-Home requirement, we are now offering TeleHealth services with our Primary Care Providers at Scheurer Health. Patients can arrange for a virtual appointment with their provider utilizing their own personal smartphone with just some easy and simple steps. 
A TELEHEALTH OVERVIEW
Call your provider's office and ask for a virtual appointment through TeleHealth
Our clinic team will ask whether you would like the secure link sent to your phone or email address. You should receive the link almost immediately.
When your appointment time is approaching, follow the link and check-in. In order for your provider to see you, click the blue "Enable Camera" button and then "allow" to access your camera and microphone. You are now in the virtual waiting room.
When your provider is ready to meet, your screen will automatically update and connect for your appointment.
Please note:
TeleHealth services require certain system updates and requirements. All devices must have a functioning camera/webcam. Some functions or tests may not be capable via TeleHealth and may require an in-person appointment to be scheduled afterward.
CLINIC CONTACT INFORMATION

PHARMACY CURBSIDE PICK-UP
To help social distancing, we are happy to provide curbside pick-up at all four of our locations. You can now refill your prescriptions without ever leaving your vehicle. On top of Curbside Pick-Up, our pharmacies are still open with regular hours. If utilizing Pharmacy Curbside Pick-up, cash payments cannot be accepted. See below for payment options. 
FOR BEST RESULTS:
Call the pharmacy's main phone line to let them know what time you will be picking up your prescriptions
While on the phone, you can complete payment by credit or debit card, or you can complete the transaction once in a Pharmacy Curbside Pick-Up parking spot.
Arrive at the pharmacy and park in one of the Pharmacy Curbside Pick-Up parking spots and call the phone number listed on the sign (again, the pharmacy mainline) to let them know you have arrived. Confirm the number of prescriptions you are picking up.
Our pharmacy staff will collect your items and meet you at your vehicle. If not already, payment will be completed at this tim.
That's it! You are on your way home without ever having to leave your vehicle.
PAYMENT OPTIONS
Credit or Debit Card while over the phone
Credit or Debit Card (will require extra time to process transaction inside)
Written Check
Not accepted: cash (but still accepted inside the pharmacy)
EXCLUSIVE SHOPPING TIME
At each of our four locations of Scheurer Family Pharmacy, the first 30 minutes of business hours are dedicated to vulnerable patient shopping, Monday through Friday. See below for times designated by location.
VULNERABLE PATIENT CRITERIA
60+ years of age
Immunocompromised
Pregnant
PHARMACY LOCATIONS
ACCESS TO SCHEURER HEALTH
Scheurer Health is limiting all traffic on the main campus through three entrances. Anyone entering the facility will be taken through a health screening.
MAIN ENTRANCE:
Emergency Care
Diagnostic Imaging
Laboratory Services
Medical Records
Registration
Rehabilitation
Specialty Care
Surgical Services
BARTH MEDICAL ARTS ENTRANCE:
Barth Medical Arts Entrance:
Scheurer Primary Care — Pigeon
Scheurer Pediatrics
Scheurer Redi-Care Clinic // Walk-in Clinic
Scheurer Family Pharmacy
Winsor Clinic (Dr. Khan)
REHABILITATION SERVICES:
Rehabilitation & Physical Therapy appointments
OUR VISION
Our vision of "Better Health. Better Life." is stronger than ever before. It is our goal to keep our community safe, up-to-date and cared for, no matter the circumstances. If you did not find the answers you were looking for, please visit the Centers for Disease Control and Prevention (CDC) website.